I told myself that I likely never would participate in the questionnaires and other blog follies. But that was on my main blog....I have decided that the frog queen follies....is exactly that. Follies.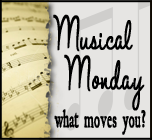 Not to dismiss Musical Monday and all it's wonderfulness, but for the frog queen to participate in something not Halloween related, especially now, is an the event itself, and must be considered a folly. I know, I am very silly. :)
I have been Good Mourning, Glory blog for a long time now but never participated in this weekly ever...so here we go. Thanks Diane for the inspiration.


So here I go.....my first blog world participation post :D
Excuse me if I don't the the protocol exactly right...I am not good with rules :D

Since I was musing on Scotland, I thought I would make a Musical Monday post on one of my favorite bands - ever, and a definitely one of my favorite song writers. Fish has it that, the reason that

Phish

spells their name that way.... He already had "Fish" taken.
Anyway...back in 1985 my sister and I were watching MTV back when they actually played videos and happened upon "

Kayliegh

" by

Marillion

. We LOVED it and spent years tracking down the Misplaced Childhood LP (back when

CDs

were just getting started) and found that they had a few other

LPs

out....I bought them all.
On the Clucking at Straws LP I came across this song. It quickly became and remains my one of my all time favorite songs.
Not sure why, as the frog queen, being female and having no kids - I cannot directly relate to the lyrics in any reflection on my life...but the longing in the song has always rung true for me. Something about the lyric and the way the delivery from Fish - just seem perfect to me.

As a folly on top of a folly....years ago when we were in London, I convinced husband to spend our wedding anniversary in a dodgy club called the Mean Fiddler to see one of his solo shows. If I ever doubted husband loved me....I got proof that night.
And....on that same trip the guy my sister was dating...who was born in Aberdeen (Scotland) was on that trip with us....he went to a candy store and bought me some sugar mice. They made me cry. I know it is silly, but they are one of my prized possessions :D
So here is Sugar Mice by

Marillion

- the video is very cheesy 80's - close your eyes if it gets too distracting.
I was flicking through the channels on the
tv
On a
sunday
in
milwaukee
in the rain
Trying to piece together conversations
Trying to find out where to lay the blame
But when it comes right down to it
theres
no use trying to pretend
For when it gets right down to it
theres
no one here
thats
left to blame
Blame it on me, you can blame it on me
Were just sugar mice in the rain
I heard
sinatra
calling me through the floorboards
Where you pay a quarter for a partnership in rhyme
To the jukebox crying in the corner
While the waitress is counting out the time
For when it comes right down to it
theres
no use trying to pretend
For when it gets right down to it
theres
no one really left to blame
Blame it on me, you can blame it on me
Were just sugar mice in the rain
cause I know what I feel, know what I want I know what I am
Daddy took a
raincheck
Cos I know what I want, know what I feel I know what I need
Daddy took a
raincheck
, your daddy took a
raincheck
Aint
no one in here
thats
left to blame but me
Blame it on me, blame it on me
Well the toughest thing that I ever did was talk to the kids on the phone
When I heard them asking questions I knew that that you were all alone
Cant you understand that the government left me out of work
I just
couldnt
stand the looks on their faces saying, what a jerk
So if you want my address its number one at the end of the bar
Where I sit with the broken angels clutching at straws and nursing our scars
Blame it on me, blame it on me
Sugar mice in the rain
Your daddy took a
raincheck
, your daddy took a
raincheck